Listen as Nazca Fontes, surrogacy expert and founder of ConceiveAbilities Egg Donor and Surrogacy Agency talks all things surrogacy. From what drives women to become surrogate mothers to intended parents' emotional journeys including infertility to industry experts weighing in on important topics you need to know about, listen as we explore modern family building through surrogacy.
Episodes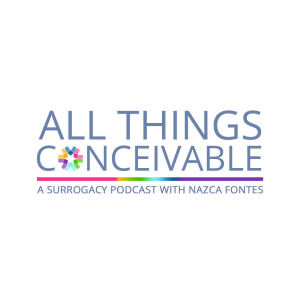 Tuesday Aug 24, 2021
Tuesday Aug 24, 2021
COVID-19 Vaccine and Pregnancy: What Surrogates and Women Who Want to Be Pregnant Need to Know Now with Dr. Jennifer Hirshfeld-Cytron
Pregnancy and the COVID-19 vaccination is a hot topic in our fertility world today. The US Food and Drug Administration has granted full approval to the Pfizer/BioNTech Covid-19 vaccine for people age 16 and older. The CDC encourages all pregnant people or people who are thinking about becoming pregnant and those breastfeeding to get vaccinated to protect themselves from COVID-19. And the American Society for Reproductive Medicine says while all women should be strongly encouraged to receive COVID-19 vaccination when pregnant or attempting pregnancy, clinics should strongly consider requiring vaccination for gestational carriers and advise intended parents to include the requirement of vaccination of gestational carriers in their contracts.
How do you take all of that information and apply it to pregnancy and surrogacy? As we navigate the pandemic and new variants, we've been hearing a lot about the questions and concerns from all parties regarding how that impacts surrogates and our intended parents. Dr. Jennifer Hirshfeld-Cytron is board certified in both Obstetrics and Gynecology and Reproductive Endocrinology and Infertility with Fertility Centers of Illinois answered our questions about the COVID-19 vaccine and surrogacy on our podcast All Things Conceivable: A Surrogacy Podcast with Nazca Fontes.
Learn more about how to become a surrogate with ConceiveAbilities here.
Take this survey to see if you qualify to be a surrogate.