Listen as Nazca Fontes, surrogacy expert and founder of ConceiveAbilities Egg Donor and Surrogacy Agency talks all things surrogacy. From what drives women to become surrogate mothers to intended parents' emotional journeys including infertility to industry experts weighing in on important topics you need to know about, listen as we explore modern family building through surrogacy.
Episodes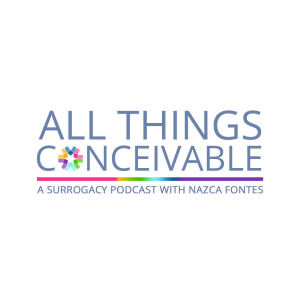 Thursday Oct 21, 2021
Thursday Oct 21, 2021
Since the inception of ConceiveAbilities 25 years ago, there have been incredible advances in third party reproduction, especially in surrogacy. More and more families are turning to surrogacy to build their families and with good reason. Not only are people more open about how surrogacy has allowed them to fulfill their dream of building a family, more women are becoming surrogates.
Dr. Ashley Tiegs with the Atlanta Center for Reproductive Medicine and winner of the ASRM 2021 Investigator Achievement award shared her own fertility journey, what inspired her to become a Reproductive Endocrinologist and how surrogacy has helped her patients build their families on our podcast All Things Conceivable: A Surrogacy Podcast with Nazca Fontes.
Read our Full Blog on Medium.com
Learn how to become a surrogate with ConceiveAbilities Surrogacy Agency: https://conceiveabilities.com/surrogates/become-a-surrogate-mother/
Join The Surrogacy Learning Center to connect with others: https://surrogacylearningcenter.conceiveabilities.com/
Take this short survey to see if you qualify to Become a Surrogate: https://www.conceiveabilities.com/app/surrogates/register