Listen as Nazca Fontes, surrogacy expert and founder of ConceiveAbilities Egg Donor and Surrogacy Agency talks all things surrogacy. From what drives women to become surrogate mothers to intended parents' emotional journeys including infertility to industry experts weighing in on important topics you need to know about, listen as we explore modern family building through surrogacy.
Episodes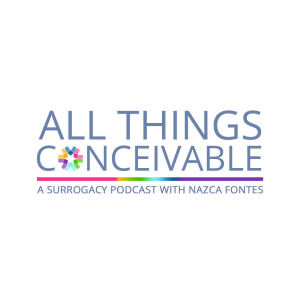 Tuesday Sep 07, 2021
Tuesday Sep 07, 2021
If you have been or are planning on becoming pregnant, you know that how you eat is important for a happy and healthy pregnancy. Our All In Surrogate Care & Compensation Package includes partum care from the beginning all the way through your fourth trimester, including information on how you fuel your body. Nutrition is just as important for you, as it is for the baby you are carrying.

Kendra Aronson, founder of the newly launched Pregnant and Hungry, a subscription-based website with pregnancy-safe recipes, created a one-stop resource for everything you need to know about what to eat, and what not to eat, during your surrogacy journey.  Listen to her perspective, with Nazca Fontes, CEO of ConceiveAbilities.
Subscribe today and get your first month subscription free for ConceiveAbilities' surrogacy community. Use the code SURROGATE at checkout for your free trial.
Learn more about becoming a surrogate and our All-In Surrogate Compensation and Care Package that extends all the way through the fourth trimester. 
Ready to begin your surrogacy journey? See if you qualify to become a surrogate.