Listen as Nazca Fontes, surrogacy expert and founder of ConceiveAbilities Egg Donor and Surrogacy Agency talks all things surrogacy. From what drives women to become surrogate mothers to intended parents' emotional journeys including infertility to industry experts weighing in on important topics you need to know about, listen as we explore modern family building through surrogacy.
Episodes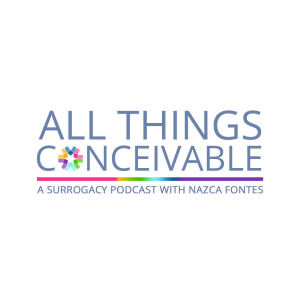 Thursday Sep 29, 2022
Thursday Sep 29, 2022
Sam Mathews from @wearedanandsam shares her surrogacy journey and what it is like becoming a surrogate influencer.
When Sam and her husband Dan decided becoming a surrogate was the right journey for their family, they naturally shared everything from the beginning of the surrogacy process through delivery and fourth trimester recovery. Listen to Sam share what she learned throughout her surrogacy journey!
Inspired by Sam's journey? Learn more about becoming a surrogate.
Ready to take the next step? Find out if you qualify to be a surrogate.
Join the Surrogacy Learning Center to connect with people in the surrogacy world.
Listen to more Surrogacy Podcasts!