Listen as Nazca Fontes, surrogacy expert and founder of ConceiveAbilities Egg Donor and Surrogacy Agency talks all things surrogacy. From what drives women to become surrogate mothers to intended parents' emotional journeys including infertility to industry experts weighing in on important topics you need to know about, listen as we explore modern family building through surrogacy.
Episodes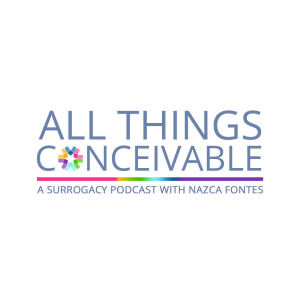 Thursday Nov 11, 2021
Thursday Nov 11, 2021
According to the CDC, surrogacy has the highest rate of success of any fertility treatment. The U.S. Center for Disease Control and Prevention reported IVF with a donor egg has a success rate of 52%, which is the highest of any fertility treatment. Higher still is the rate of success with a surrogate. IVF clinics in the US have a surrogacy success rate of about 75%, and that number can increase as high as 95% for a birth once the gestational carrier is pregnant.
Dr. Brian Kaplan with Fertility Centers of Illinois has been passionately leading the way in infertility for nearly three decades in IVF, egg donation, gestational surrogacy and more. Dr. Kaplan joined our All Things Conceivable: A Podcast with Nazca Fontes to  explain what this statistic means for intended parents and surrogates embarking on a surrogacy journey.
Build your family with ConceiveAbilities: https://www.conceiveabilities.com/app/parents/register
Learn more about becoming a surrogate mother with ConceiveAbilities Surrogacy Agency: https://www.conceiveabilities.com/surrogates/become-a-surrogate-mother/
Join the Surrogacy Learning Center: https://surrogacylearningcenter.conceiveabilities.com/
Find out if you qualify to become a surrogate: https://www.conceiveabilities.com/app/surrogates/register